Coronavirus and the "SEM with Mplus" courses
The courses planned for September and December are still "on track" to take place as scheduled.
Meanwhile, I invite you to visit my website for online courses: MplusWizard. The website includes a detailed description of what it is like to take the courses, complete with videos.
If you still prefer the in-person course, my current outlook for a safe delivery of the course in September is very positive. This will be updated when/if things change, but here is my view on three main issues:
1. Danger of contracting the virus here:
Within the College: The College has cancelled most of it's events, but kept ours. We were moved to the biggest teaching room the College has, which has the capacity to seat 47 people, whereas I am only opening 10 seats at the moment. Further protection is offered by the fact that the course will take place before the return of students (term time only starts in October here).
Within England: The Office for National Statistics estimates that only 0.03% of the population is now (i.e. 9 July) infected, with rates steadily declining and most infections were for people 85+ years old (probably depicting clusters in care homes). Rates in Cambridge have been low throughout, with a much "flatter" curve than the rest of the country [you can check the most up-to-date graph here]. All these factors indicate it will be safe to deliver a course in September.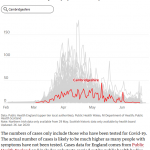 2. Treatment:
Should the worst happen, Cambridge has one of the best hospitals in the country, Addenbrookes, which is a university hospital. More generally, two drugs are now deployed at fast pace across the country:  remdesivir (this reduces duration and severity in mild cases) and dexamethasone (which significantly reduces death risk in severe cases). Another notable medical advance is the fact that a test exists that can be easily administered upon admission to hospital, which can directly inform whether a specific patient should be given blood thinners and be provided with oxygen assistance.
3. Travel:
Travellers from some countries must self-isolate for 14 days upon entry to the UK. However, travellers from 57 countries do not have to self-isolate at all. The current list of countries exempt from self-isolation (which I will maintain up-to-date) includes:
Akrotiri and Dhekelia, Andorra, Anguilla, Antigua and Barbuda, Aruba, Australia, Austria, The Bahamas, Barbados, Belgium, Bermuda, Bonaire, St Eustatius and Saba, British Antarctic Territory, British Indian Ocean Territory, British Virgin Islands, Cayman Islands, the Channel Islands, Croatia, Curaçao, Cyprus, Czech Republic, Denmark, Dominica, Falkland Islands, Faroe Islands, Fiji, Finland, France, French Polynesia, Gibraltar, Germany, Greece, Greenland, Grenada, Guadeloupe, Hong Kong, Hungary, Iceland, Ireland, the Isle of Man, Italy, Jamaica, Japan, Liechtenstein, Lithuania, Luxembourg, Macao (Macau), Malta, Mauritius, Monaco, Montserrat, the Netherlands, New Caledonia, New Zealand, Norway, Pitcairn, Henderson, Ducie and Oeno Islands, Poland, Reunion, San Marino, Serbia, Seychelles, South Korea, South Georgia and the South Sandwich Islands, Spain, St Barthélemy, St Helena, Ascension and Tristan da Cunha, St Kitts and Nevis, St Lucia, St Pierre and Miquelon, Switzerland, Taiwan, Trinidad and Tobago, Turkey, Turks and Caicos Islands, Vatican City State, Vietnam
******
Important:
The College and I are committed to keeping you safe above all. Should circumstances change for the worse, we will err on the side of caution. And if you change your mind at any point, you will obtain a full refund for the course fees and a full refund minus £10 for accommodation in the College.
******
I am currently offering only 10 seats (to be revised later, if safe). Also, to reduce the numbers further, I am only allowing resigtrations for the full course at the moment. However, if you wish to take the course, please do not delay your registration. If you sit on the fence until the very last minute, two things could happen:
a) There might be a "sign-up frenzy", whereby all the seats are snapped up within a couple of days. So you might miss out on a place! This has happened twice before, where up to 20 seats were snapped up in 3-4 days.
b) We might cancel the course in the mistaken belief that there is insufficient demand. The final decision will be made relatively early, most likely at the start of August. So if you want to make this course happen, you need to help a bit by signing up so that we know you intend to come. As I mentioned above, you will get a full refund if your circumstances change.